March 19 2023
RECIPIENT 22022
This recipient is a single parent of two young children who is a faithful leader in her church overseeing the nursery. She is also employed at a local daycare while taking classes at ICC College. This mom did not ask for assistance and has never wanted to be a burden to her church. Another leader noticed she was getting behind in rent due to paying off some additional household bills. The ministry provided two months of rent to help her out.
---
March 19 2023
RECIPIENT 22021
This blessing went to a single mom with one child. She is very active in her local church volunteering in several capacities. Her young son began having emotional and behavioral issues recently and sought the advice of church staff. A referral was made for needed counseling. In addition to this new expense, the candidate had to replace a car that was beyond repair and was also had to pay the remainder of a sizeable home repair bill that insurance did not completely cover. All the extra expenses at once were overwhelming for this family. This ministry was able to provide funds to help with the recent unexpected bills. Her note of thanks read "I don't even know how to begin to that you for your generous gift that helped me and my family more than you will ever know!"
---
March 19 2023
RECIPIENT 22020
The recipient is a faithful member of a local church who encountered medical challenges that caused her to miss work. As a result, this caused her to get behind in some of her bills including rent and utilities. The pastor where she is active heard she was asking another friend for funds to help her get by, and nominated her for assistance. The ministry blessed her with two months of rent payments.
---
March 19 2023
RECIPIENT 22018
This recipient is a family that suffered loss of income related to the pandemic that caused them to get behind on several bills. The mom has four children, two from a previous marriage that live with their dad, but she also helps pay child support for them. She is very hard-working as well as active at church as director of the children's ministry. She was able to secure a different job this summer and now has a steady source of income, but needed help catching up with debt. They received money to cover late fees and back rent plus one additional month of rent.
---
March 19 2023
RECIPIENT 22017
This blessing went to a recipient who is single, and currently employed as a CNA. She has been a member of her church for over two years, and volunteers there often. She has chronic health issues that have required hospitalization on several occasions, causing her to get behind on several basic payments. This ministry was able to lend a helping hand by covering two months of unpaid rent and one car payment.
---
November 22 2022
RECIPIENT 22008
A widow, this recipient is also a senior citizen who is active in church. She is always willing to help serve others
but humble when it comes to asking for assistance for herself. She is on a limited income maintaining her own
aging home with its large yard all on her own. Her lawn mower needed repairs this spring, and winter plowing
caused damage to her gravel drive that has not had new rocks in several years. The ministry covered the cost
of new gravel and lawnmower repairs.
---
November 22 2022
RECIPIENT 22009
The family receiving this ministry blessing was referred by their pastor. Once a dual income family of six, they
are struggling financially due to an unexpected medical crisis that the wife experienced. She is currently
restricted from returning back to work and daily activities while recovering. They are faithful Christ followers,
active in the church before this incident. Now a single-income family, this had led to a tremendous setback in
making ends meet as they depended on both salaries. Their faith is strong in the Lord and the husband is
trying to adjust their budget so essential bills can be paid, but others can see they are silently struggling. To
help with some of their financial shortfall, a blessing has been given to them that will cover two months
utilities and car payments. The pastor shared this testimony of the wife's response: "We were able to present her
the check at church and she couldn't hold back the tears and the sincere gratitude. We shared with her that God has seen
her silent tears and answered some of her prayers by raising up other believers that God uses to encourage us that He
has not forgotten our labor of love and service in the Kingdom of God."
---
November 22 2022
RECIPIENT 22010
The recipient of this blessing is a single lady in her sixties. She is active in her church, volunteering both in the
church and in the community. She is currently not working and struggling to pay her bills. She has an interview
next week but needs help since she is behind on her rent, she is typically not someone who has been late with
bills and could use some encouragement. This ministry is blessing her by providing funds to cover past due
amount on her rent and utilities.
---
November 22 2022
RECIPIENT 22012
This recipient is a single mom with children at home. She is an active member of her church and is employed,
but due to illness that required a hospital stay she got behind on some utility bills. Funds were given to her to
cover the cost of these bills.
---
November 22 2022
RECIPIENT 22013
This blessing went to a faithful family in need. While there is a source of income from employment, sickness,
temporary job loss, and death of one of the daughters caused them to get behind on basic bills like rent and
utilities. The financial blessing helped them get current with these bills.
---
November 22 2022
RECIPIENT 22014
This family has struggled to meet their basic financial responsibilities this year while continuing to faithfully
serve the Lord in their congregation. The husband has had a myriad of medical issues including a kidney
transplant. Necessary dialysis treatments have prevented him from working, so household income was
reduced to one. They have also recently gained custody of a great-grandchild adding to the financial strain. A
blessing was given to cover two months of rent.
---
November 22 2022
RECIPIENT 22015
This recipient is a single mom of one small child who is has been actively involved in her church for years, and
is currently working two jobs to try and make ends meet. The fall brought extra financial burdens of starting
school and doctor's visits that put extra strain on an already tight budget. This ministry blessed her by
providing two months of rent.
---
November 22 2022
RECIPIENT 22016
The recipient is a single person who is employed part-time but does not have insurance. This person is seeking
to lead a Christian life but there was a need for counseling to address some issues they struggle with. A
blessing was given to help with this service.
---
July 24 2022
PSALM 16:11 REACH IS EXPANDING!
We are excited to show the breadth of impact our generous donors are having in the Peoria Area! We will continue to update this map as we bless new recipients from additional Peoria area churches.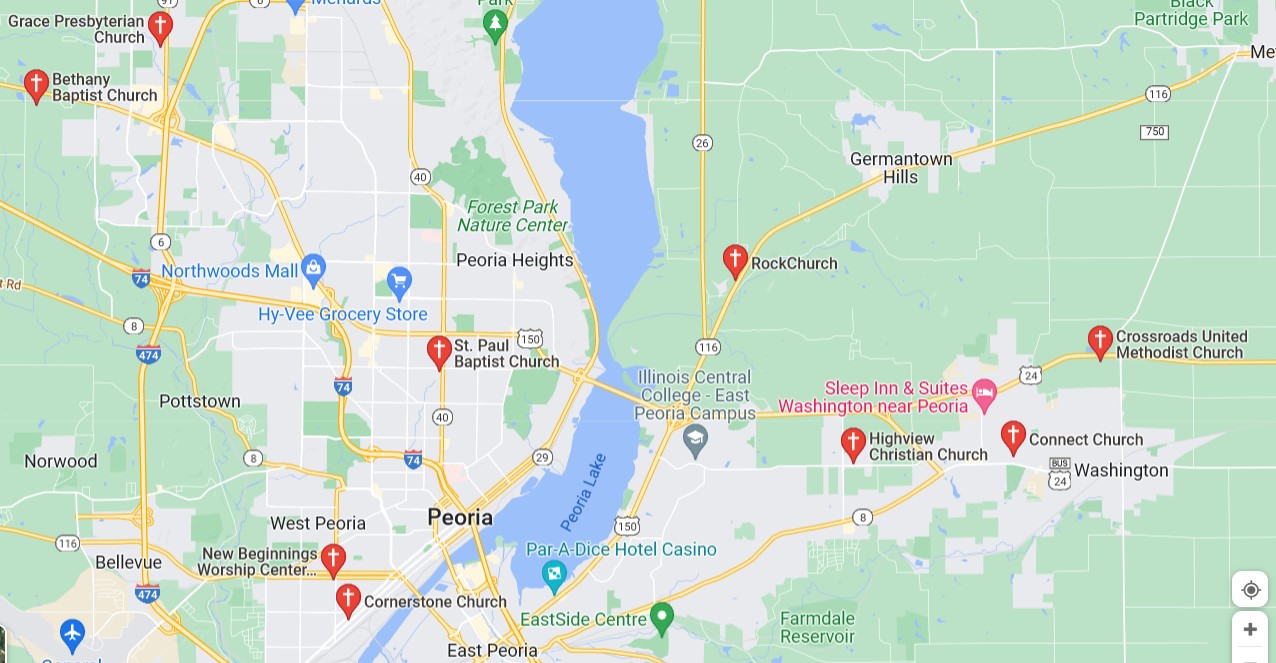 ---
July 24 2022
RECIPIENT 22005
---
July 24 2022
RECIPIENT 22006
---
July 24 2022
RECIPIENT 22007
---
July 23 2022
RECIPIENT 22001
---
July 23 2022
RECIPIENT 22002
---
July 23 2022
RECIPIENT 22003
---
July 23 2022
RECIPIENT 22004
---
February 19 2022
RECIPIENT 21004
Recipient is a family of five. The father is the sole source of income as the sole proprietor of a 1-man service business. His business is reliant on raw materials being available so he can manufacture his product to serve his customers. Unfortunately, due to the ongoing supply chain issues, he was not able to receive raw materials for a couple months to make his product. If he can't make the product, he doesn't get paid. Other people hired him to do odd jobs during this difficult time and he was able to bring in some money but it was not enough to cover the shortfall. The pastor of his church reached out to Psalm 16:11 Ministries to see if we could invest in this young family. We gladly did and were able to bridge the short-term financial gap. Both parents continue to be actively involved in key aspects of their church's programming.
---
February 19 2022
RECIPIENT 21003
Recipient is a young family of four where the children are home schooled by the mother while the father is a teacher outside the home. They are faithful followers of Christ and are active members in their church. The parents have even been missionaries for several years spreading the Word of Christ. Unfortunately, their basement flooded and insurance would only cover a portion of the repairs. Insurance did not cover removing a tree root growing in the home's foundation drain tiles that caused the flooding. The recipient's pastor contacted Psalm 16:11 Ministries and asked us to help. Our objective was to resolve the ultimate problem so the flooding didn't occur again. The recipient's homeowner's insurance covered the cost of the interior damage and we covered the costs to fix the tree root problem not covered by insurance. All repairs have been made and the family is flourishing and are very grateful of their church family.
---
February 19 2022
RECIPIENT 21002
Recipient is a single mother of two older boys. She actively attends and volunteers at her church and is grateful for the support and encouragement she receives from her church family. She worked two jobs until some medical issues caused her to miss work. When she was presented to us from her Pastor, she was only working part time and trying to pass her CNA exam. She had fallen behind on her rent and utilities. Psalm 16:11 Ministries stepped in paying her rent and utility bills to free up money for her to pay her medical bills. She has passed her CNA and is now gainfully employed in her chosen field.
---
February 19 2022
RECIPIENT 21001
Recipient is a young adult male that is a committed and active member of his church. His pastor learned he was delaying treating several dental issues because the recipient did not have savings or insurance to pay for the treatment. His pastor described the recipient as a person committed to breaking the cycle of poverty and unemployment that plagued his family for multiple generations. The recipient was working several jobs but none that provided dental insurance. Since he did not have insurance, he had not been to a dentist since high school. His pastor contacted Psalm 16:11 Ministries seeking help. We connected the recipient to a local dentist where he received the proper care, and he has now fully recovered. We recently learned he has passed an aptitude test to become an apprentice in a trade. He now has just started a position with a company where he will complete his apprenticeship and has benefits. He continues to be connected and is an active member of his church.
---