July 24 2022
PSALM 16:11 REACH IS EXPANDING!
We are excited to show the breadth of impact our generous donors are having in the Peoria Area! We will continue to update this map as we bless new recipients from additional Peoria area churches.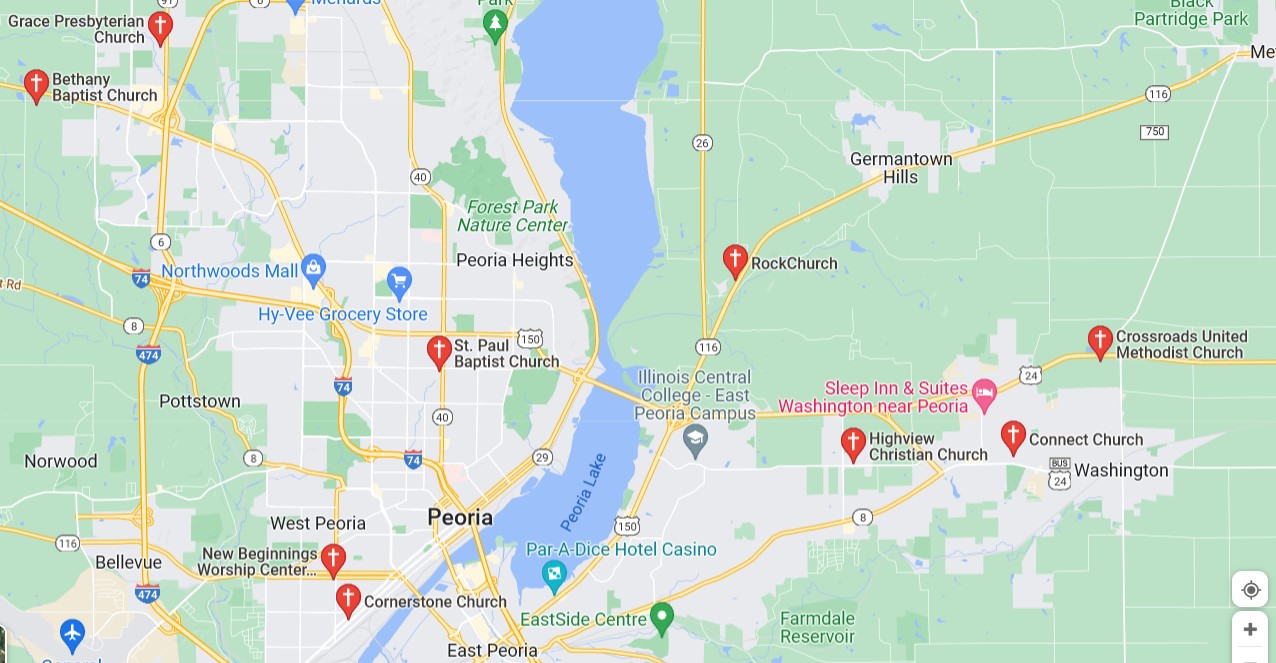 ---
July 24 2022
RECIPIENT 22005
---
July 24 2022
RECIPIENT 22006
---
July 24 2022
RECIPIENT 22007
---
July 23 2022
RECIPIENT 22001
---
July 23 2022
RECIPIENT 22002
---
July 23 2022
RECIPIENT 22003
---
July 23 2022
RECIPIENT 22004
---
February 19 2022
RECIPIENT 21004
Recipient is a family of five. The father is the sole source of income as the sole proprietor of a 1-man service business. His business is reliant on raw materials being available so he can manufacture his product to serve his customers. Unfortunately, due to the ongoing supply chain issues, he was not able to receive raw materials for a couple months to make his product. If he can't make the product, he doesn't get paid. Other people hired him to do odd jobs during this difficult time and he was able to bring in some money but it was not enough to cover the shortfall. The pastor of his church reached out to Psalm 16:11 Ministries to see if we could invest in this young family. We gladly did and were able to bridge the short-term financial gap. Both parents continue to be actively involved in key aspects of their church's programming.
---
February 19 2022
RECIPIENT 21003
Recipient is a young family of four where the children are home schooled by the mother while the father is a teacher outside the home. They are faithful followers of Christ and are active members in their church. The parents have even been missionaries for several years spreading the Word of Christ. Unfortunately, their basement flooded and insurance would only cover a portion of the repairs. Insurance did not cover removing a tree root growing in the home's foundation drain tiles that caused the flooding. The recipient's pastor contacted Psalm 16:11 Ministries and asked us to help. Our objective was to resolve the ultimate problem so the flooding didn't occur again. The recipient's homeowner's insurance covered the cost of the interior damage and we covered the costs to fix the tree root problem not covered by insurance. All repairs have been made and the family is flourishing and are very grateful of their church family.
---
February 19 2022
RECIPIENT 21002
Recipient is a single mother of two older boys. She actively attends and volunteers at her church and is grateful for the support and encouragement she receives from her church family. She worked two jobs until some medical issues caused her to miss work. When she was presented to us from her Pastor, she was only working part time and trying to pass her CNA exam. She had fallen behind on her rent and utilities. Psalm 16:11 Ministries stepped in paying her rent and utility bills to free up money for her to pay her medical bills. She has passed her CNA and is now gainfully employed in her chosen field.
---
February 19 2022
RECIPIENT 21001
Recipient is a young adult male that is a committed and active member of his church. His pastor learned he was delaying treating several dental issues because the recipient did not have savings or insurance to pay for the treatment. His pastor described the recipient as a person committed to breaking the cycle of poverty and unemployment that plagued his family for multiple generations. The recipient was working several jobs but none that provided dental insurance. Since he did not have insurance, he had not been to a dentist since high school. His pastor contacted Psalm 16:11 Ministries seeking help. We connected the recipient to a local dentist where he received the proper care, and he has now fully recovered. We recently learned he has passed an aptitude test to become an apprentice in a trade. He now has just started a position with a company where he will complete his apprenticeship and has benefits. He continues to be connected and is an active member of his church.
---